2022/01/06

Japan-Taiwan Symposium 2021 Videoconference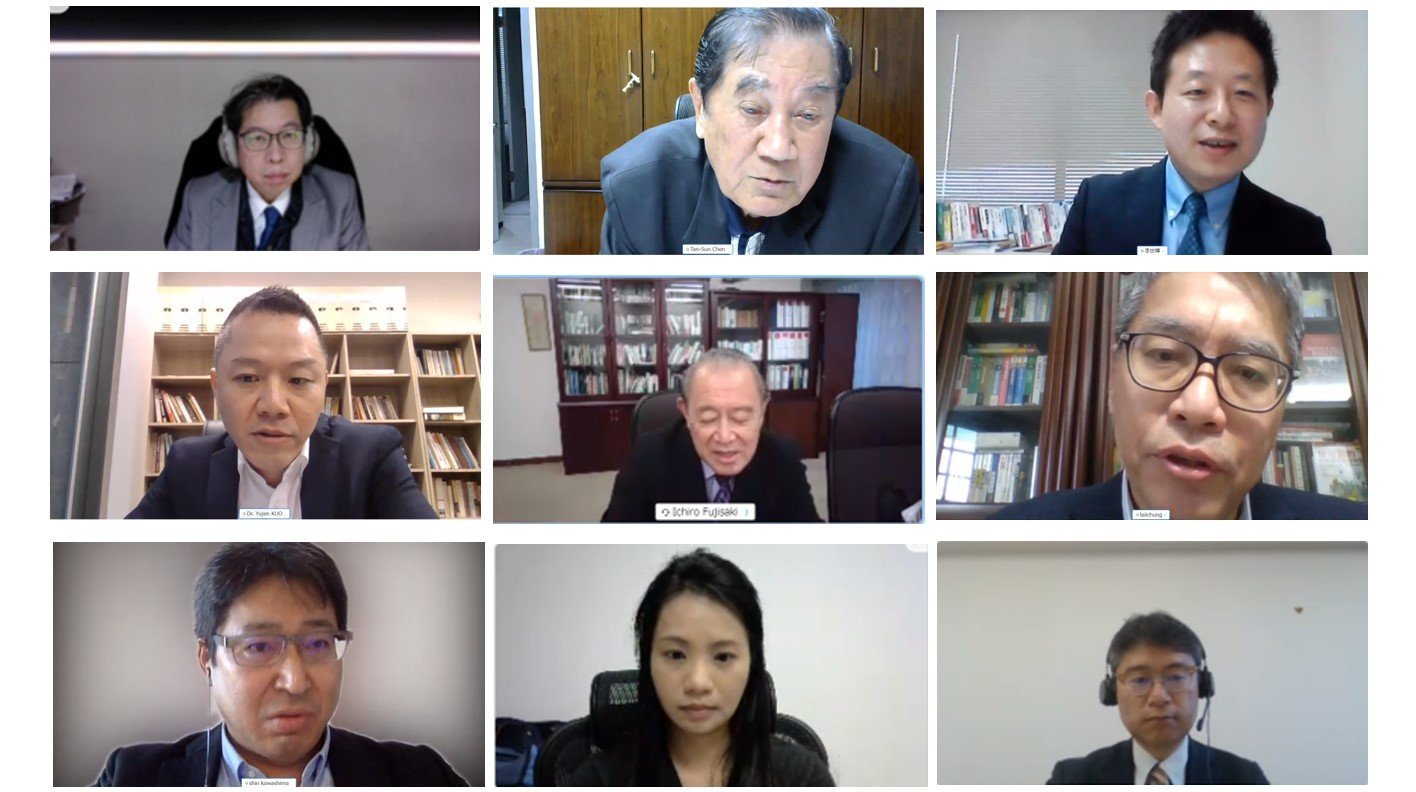 Nakasone Peace Institute (NPI), in collaboration with The Prospect Foundation, held the 19th "Taiwan-Japan Dialogue 2021" since its inception in 2002. The multi-faceted and in-depth discussion went on for about two hours.
Overview
Date and time: Wednesday, December 1, 2021, 14:30-16:30 (Japan time)
Format: online video conferencing
Main participants: (titles omitted)
Japan participants
Fujisaki Ichiro, President, NPI, Former Ambassador to the United States
Kawashima Shin, Executive Director of Research ad interim, NPI; Professor, University of Tokyo
Ito Shingo, Senior Economist, Institute for International Economic Studies
Taiwan participants
Tan-Sun CHEN, Chairman, The Prospect Foundation, Former Secretary General in the President's Office
Yu-Jen KUO, Professor, Institute of China and Asia-Pacific, National Sun Yat-sen University
Shui-Hui LI, Professor, President, The Prospect Foundation
I-Chungi LAI, President, The Prospect Foundation
Agenda and Discussion
Session 1: "FOIP, Japan and Taiwan, and the Prospects for Japan-Taiwan Relations"
The Japanese participants reviewed the transition of Japan-Taiwan relations since the 2010s and reported that although Japan-Taiwan relations have faced problems since 2016, new horizons such as vaccine cooperation have been opened in the Covid-19 era. Also reported was that Japan is facing such issues as the supply chain issue in the semiconductor industry and China's military activities. In addition, a report was made on the direction of Japan's response to China's and Taiwan's applications for membership in CPTPP and the possibility and direction of progress in Japan-Taiwan cooperation.
The Taiwan participants expressed their views on the AUKUS/Quad trends in the South Pacific and Japan's response to a Taiwan contingency. In addition, recommendations were made on how to respond to China's salami-slice strategy.
Session 2: "Indo-Pacific Regional Economic Integration Strategy and China's and Taiwan's Applications to the CTTPP"
The Taiwan participants expressed their views on the fact that the development of technology has become a security issue due to the U.S.-China trade war and the "economic security" strategy of the Kishida administration. It was also reported that within the framework of the CPTPP, Taiwan could be Japan's best partner in the formation of new rules and the restructuring of the supply chain in the field of science and technology that Japan is advancing. In order to promote economic and technological cooperation between Taiwan and Japan, they suggested that it is important to establish a platform for cooperation, including regular dialogues between research institutes in Taiwan and Japan.
The Japanese participants reported that ensuring a free international economic order is essential for Japan and Taiwan, that Taiwan's accession to the CPTPP would contribute to the development of a free economic order, and that China's CPTPP accession review process could provide a valuable opportunity to change China's policies and actions. Recommendations were made for Japan-Taiwan cooperation.