2019/12/19

Asia-Pacific Review, Vol. 26, No. 2(NOVEMBER 2019), is released.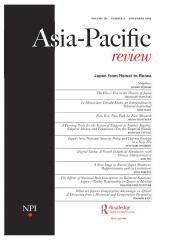 Japan from Heisei to Reiwa
◆Neighbors
ICHIRO FUJISAKI
◆The Heisei Era in the History of Japan
MASAKAZU YAMAZAKI
◆In Memoriam: Donald Keene, an Extraordinarily Talented Individual
TORU HAGA
◆New Era, New Path for New Monarch
SHINICHI KITAOKA
◆A Turning Point for the System of Emperor as Symbol: Bagehot, Emperor Showa, and Fukuzawa's On the Imperial Family
KIYOTADA TSUTSUI
◆Japan's New National Security Policy and Defense Strategy in a New Era
ITSUNORI ONODERA
◆Digital China: A Fourth Industrial Revolution with Chinese Characteristics?
ASEI ITO
◆A New Stage in Russia-Japan Relations: Rapprochement and its Limitations
ANNA KIREEVA
◆The Effects of National Role Conceptions on Bilateral Relations: Japan--Turkey Relationship in Quests of Identity
BAHADIR PEHLIVANTURK
◆What are Japan's Comparative Advantages in Africa? A Discussion from a Historical and Comparative Perspective
HIROSHI KATO